MEET OUR FESTIVAL
SPONSORS
FESTIVAL SPONSORS
Some of the biggest and most popular brands are getting in festival mood! Meet our sponsors and exhibitors and get to experience the unique activations they are preparing, exclusively for Taste of Athens!
Partner Hotels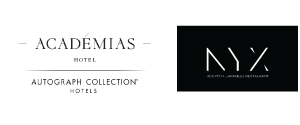 An Academy of the Senses - Academias Hotel, Autograph Collection, is a cosmopolitan 60 rooms city hotel. Inspired by the 3 principles of the historic Plato's Academy – Science, Art & Philosophy – it brings them to life throughout various spaces within the hotel, in a postmodern way, inviting its guests to a creative journey that awakens the senses. Unwind and indulge in the stylish Plato all day Lounge or at the Symposium with the rich breakfast buffet and the Mediterranean influenced cuisine with supreme local ingredients. ΝΥΧ Rooftop Bar & Restaurant offers a unique dining experience with a Japanese flair and a touch of Peru and the Mediterranean. The breathtaking Acropolis view is a marvel!
SIGN UP
Sign up to our newsletter and be the first to know the chefs and restaurants line-up, the artists, recipes programming and everything that's cooking.